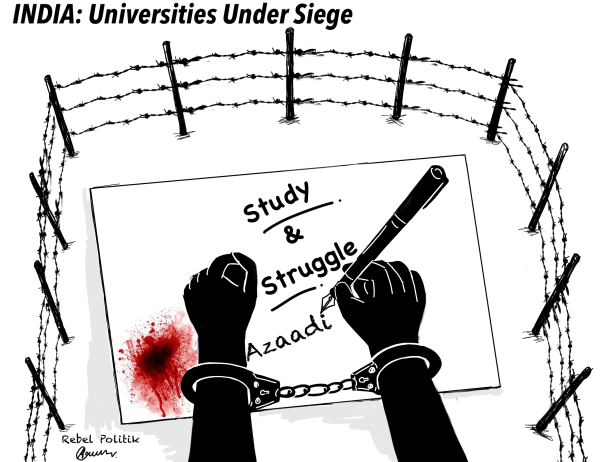 (Illustration: V. Arun/ Rebel Politik)
In India, the universities and the idea of inclusive education are undergoing worst kind of assault since the South Asian country got independence in 1947. The Hindutva fascist government headed by Prime Minister Narendra Modi has unleashed a series of brutal crackdown on many Indian universities to silence the growing student resistance against the government push towards turning the country into a Hindu nation and also against the free hand given to corporate exploitation.
The Modi led government is branding any dissent emerging from the universities as 'anti-national', and putting students and teachers into the jail. Beginning from Film and Television Institute of Indian (FTII) and then Jawaharlal Nehru University (JNU), now the state is targeting University of Hyderabad (UoH) where a Dalit student activist, Rohith Vemula committed suicide after being harassed by the government and varsity administration.
The aggressive use of police and paramilitary to seize the universities by the Modi-led government has lit a massive student-teacher resistance in campuses across India and very soon this fire of resistance along with larger progressive and anti- fascist forces will burn the fascist government into ashes.