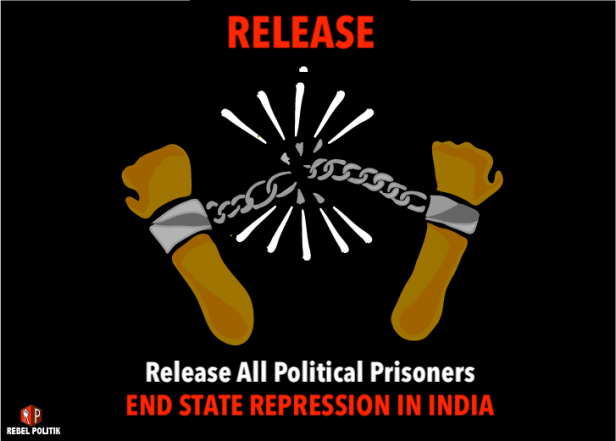 In a move reminiscent of the infamous Emergency, human rights activists have been arrested, and the homes of activists, writers and other dissenting voices all over the country raided.
Those arrested include noted rights activist Sudha Bharadwaj who has lifelong been a lawyer and champion of the rights of the most oppressed in Chhattisgarh, as well as Vernon Gonsalves, Gautam Navlakha and others. Homes of activists have been raided in Mumbai, Delhi, Ranchi, Goa and Hyderabad. Sudha Bharadwaj has been booked under Sections 153a, 505, 117 and 120 of the IPC and several sections of the Unlawful Activities (Prevention) Act.
The arrests and raids are reportedly at the behest of the Pune police in the Bhima Koregaon matter, in which Dalit and feminist activists and advocates have already been arrested. The attempt to project the peaceful Bhima Koregaon event as an act of terrorism is utterly baseless and condemnable.
It is shocking but not surprising that under the BJP rule at the Centre and in Maharashtra, rights activists are arrested and booked on terror charges under draconian laws – while terror outfits like Sanatan Sanstha and Shiv Pratishthan unleash violence on Dalits, plot terrorist attacks, assassinate dissenters and yet are referred to by BJP leaders including the current Prime Minister of India as 'nationalist'.
The arrests and raids are an attempt to brand all dissenting voices as 'anti national' and intimidate them as the Parliamentary polls draw nearer.
We condemn the arrests and raids, and demand the release of Sudha Bharadwaj, Gautam Navlakha, Vernon Gonsalves, Vara Vara Rao and others arrested today.
Under the Modi regime's undeclared Emergency, rights activists and dissenters are either shot at, killed, or raided, arrested and jailed.
Prabhat Kumar
For Central Committee, CPI(ML)